Команда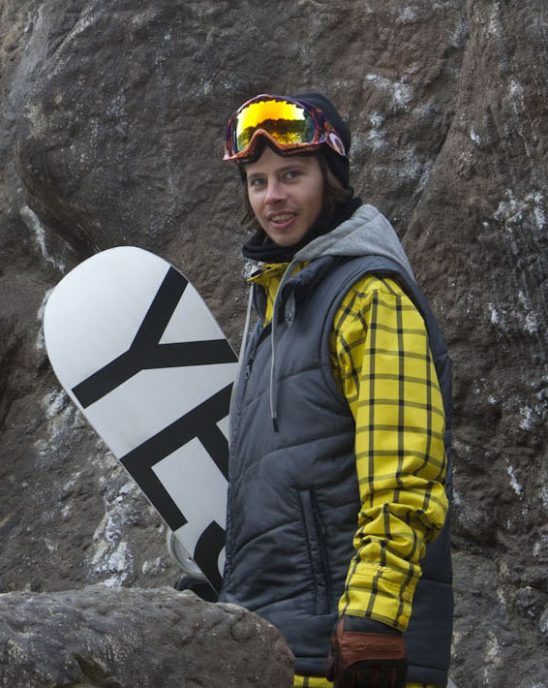 ARTEM TEYMUROV
There is probably no person in Russia interested in snowboarding and who has not heard about the Teymurov dynasty. This is a legendary dynasty of father and his two sons: Victor and Artem, who recorded their names in to the history of Russian snowboarding.
Artem was born on February 23, 1989 and starting from the young age he was considered as one of the most promising and stylish riders in Russia. His achievments include: many tricks, competitions, sponsorship contracts, parties in snowboard films and a lot of days that he spent in the mountains.
Moreover, Artem is an all-round person, pleasant to talk to and communicate with. He loves and appreciates nature and tries to spend as much time as possible in the mountains, away from the city bustle. His hobbies are fishing, photography and guitar. His favorite places for skiing are European Alps, Kamchatka, Uzbekistan. His sponsors are: Dc Snowboards, Snowboard Project.
Achievements: Russian Snowboard Championship 2004 – 2nd place; Nokia Winter Action 2004 (Big Air) – 2nd place; Jib Contest "Uzkoe" park – 1 place; BGV 2005 – 1 place; Nice ACG Jibbing 2006 – 3rd place; Russian Snowboard Competition 2007 – 4th place; Nechkhino Cup 2009 – 5th place; Russian Snowboard Cup 2009 – 3rd place; Russian Snowboard Cup 2010 – 1st place;
Men's Health Railmaster 2011 – 2nd place; Centrifuga 2016 – 2nd place; Banket Slalom New Star Camp 2016 – 3rd place; Traektoria Spin Slide 2017 – 2nd place; Banked Slalom New Star Camp 2017 – 2nd place
Video appearances: Reklamnaya Pauza movie 2004; Mania – Revision films 2004; Life – Revision films 2005; All Inclusive – Stereotactic films 2006; Maraphon – Stereotactic films 2007; Kitchen – Stereotactic films 2008; Re – Stereotactic films 2009; Pudra – Liberty films 2010; What is This? – Unity films 2012; Alpha Omega – Hesh Heaven films 2013; Heads and Tails – WhatWeWant films 2014; Turn – Unity Films 2015