Команда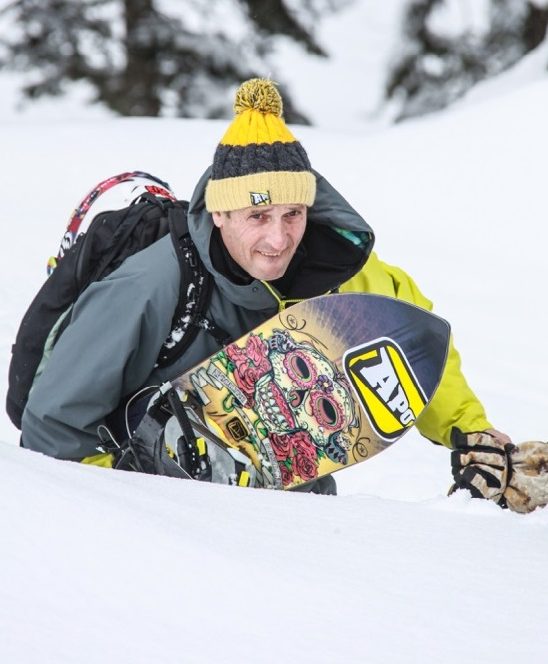 RÉGIS ROLLAND
Régis Rolland is considered by many as the godfather of snowboarding in Europe. One of snowboarding's living legends, a big mountain pioneer.
In 1982, this 22-year-old ski instructor discovered the joys of snowboarding on the steep slopes of Les Arcs using a Winterstick board. Régis Rolland became the symbol of this emerging board sport. He inspired many skiers to switch to snowboarding and paved the way for big mountain riding.
Régis started developing his first boards in the summer of 1983. With his cabinetmaking background, the genius rider became a genius shaper. After the films, Régis embarked on an entrepreneurial adventure spanning more than 30 years, with his brands Apocalypse Surf, A-Snowboards, Apo and Rhyme-bc. His passion for gliding sports remains the same: the call of the snow has pushed Régis to go back to being a ski and snowboard instructor on different mountains around the world, in the context of splitboard and heliboarding trips.
Régis is as passionate and dynamic on a snowboard or a pair of skis as he has ever been! In the spring of 2019, Régis Rolland discovered Kamchatka. For this powder hunter, it was love at first sight. "We can ride all the way to the beaches of the North Pacific Ocean, around the smoke of the active volcanoes. From big faces with vertical drops ranging from 700 to more than 2000 meters to forests, there's something to suit all tastes. Every day with Helipro is full of surprises and a major advantage of heliski in Kamchatka is that trips are three times cheaper than in Alaska!". In the spring of 2020, Régis Rolland will set up his basecamp in Kamchatka and will join the team of Helipro guides. If you want to join Régis Rolland, you can contact him by e-mail regis.rolland2@gmail.com https://vimeo.com/379713151